The first time I used the Alpkit Hunka XL Bivvy Bag was inside a tent! On a recent scout camp I decided to try a small lightweight tent that was in the stores and had only been used once before me and I was woken on the first night by a drip that was landing on my sleeping bag. Luckily I had packed the bivvy as I had intended to see how me and my sleeping bag fitted into it before I took it on a #microadventure to iron out any problems with the setup I was planning to use. So I reached over to my bag, pulled the Hunka XL bivvy out and wriggled into it carefully so not to rip it as I was still in my sleeping bag. I was expecting it to make more noise when moving about, but once inside it was very quiet and spacious. While pulling the draw cords (which seem to be a bit fiddly) I found myself staring at a "Made in China" tag, which is a shame as I was under the impression that Alpkit made it all in the UK?
I decided to use this without a tent on an overnight trip to an axe throwing course with some other Scout leaders, there was two reasons behind this decision. Firstly to reduce the weight of my kit by switching a tent for a tarp and bivvy combo, secondly I was fast approaching a trip to Norway and Sweden where I would be spending one night bivvy camping on the shore of Lake Rojden (Which actually straddles the border between the two). It feels like a tardis, so much room inside something that packs down to almost half the size of a British Army bivvy bag. Being breathable you don't wake up feeling like you have slept in a carrier bag, if you are sleeping in a bivvy bag to stay out of the bad weather you don't want to end up with a soggy sleeping bag because of condensation.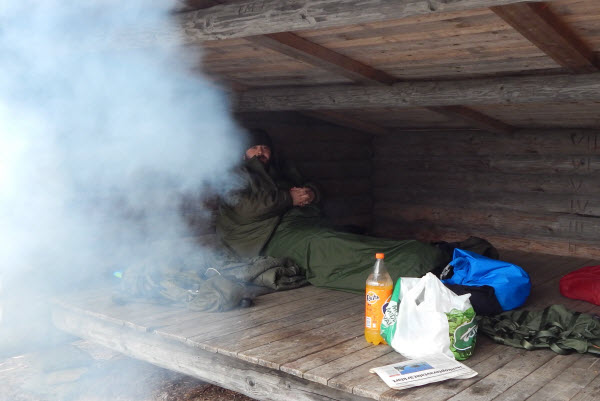 Available in 3 different colours Kelp (olive green), Lego (royal blue) and Chilli (red) you can decide to stand out or blend into your surroundings. If you need a slightly smaller (regular) size Hunka is also available. If you are looking to get outdoors and have your own #microadventure Alpkit had a bundle which included the Hunka and a few other items to help get you started, at the point of writing this up it was not in stock.
So after a few uses I think this will be an item that goes in my pack each time I go camping even if I am using a tent, as I have found that it increases the warmth of my sleeping system and it has the advantage of not needing you to get out of your sleeping bag to make use of it unlike adding a liner does. The only complaint I have is they don't stay in stock for very long, but that just goes to show how popular they are and rightly so.