After sampling some rather nice Damson Gin earlier this year (Skal Julian) I decided it was time I infused my own boozy drinks, so I started to research recipes and methods. It also coincided with my 4th wedding anniversary and the traditional gift is fruit, OK fruit and flowers but I find flower infused drinks taste perfumey.
I found a post on Badger Bushcraft for blackberry vodka and used it as my starting point when making blackberry gin, I adapted it to make a batch of raspberry vodka at the same time.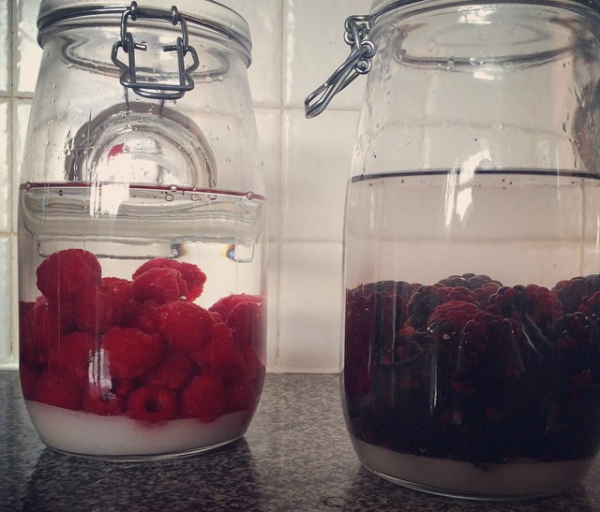 A few days later I decided to look at what else I had in my drinks cabinet and what I can make from it, so with some Jack Daniels I started to make Coffee Bourbon after finding the recipe on boozed and infused. This was a small batch and I found that after 2 weeks of infusion it was ready, which was good as I was looking forward to trying this one the most.
So back to the fruit infusions, about half way through the infusion time I took the bottles out to give them a taste test so you can see if any thing else needs adding, I decided I would add more sugar as I prefer a sweeter tipple and makes it very drinkable indeed.
I have also been experimenting with various other ingredients and infusion times, my favorite being a tie between strawberry white rum and cinnamon whiskey. A batch of Badger Bushcraft inspired Christmas Spiced Brandy is underway waiting for Christmas day, I had some plums in the fruit bowl so I used them instead of blackberries and on a taste test the flavors are coming along nicely.
All I need now is a campfire to sit around while I enjoy my infused booze with good company.