I have been looking at Chris Caine's range of survival tools and knives for about a year now, in particular one of the folder knives but with all the different colours and materials available I am finding it hard to pick one.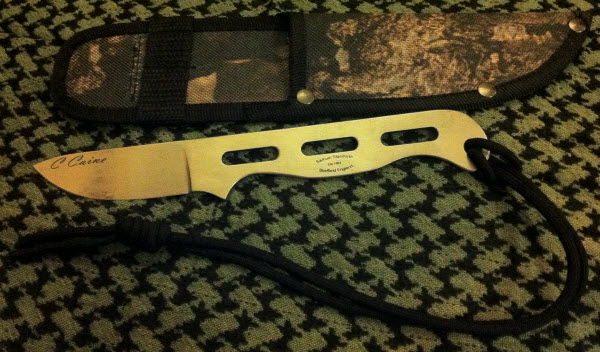 I opted for the Skeleton knife as it fitted somewhere between a full tang knife and a small pocket knife, it is a very handy knife to have around camp, at £29.99 I thought it was a good price too. Made by Staniforths of Sheffield the Skeleton knife is a single piece of 2.8mm CS80 spring steel, 190mm long with a blade length of 69mm. It was sharp out of the box without the need to run it over a strop.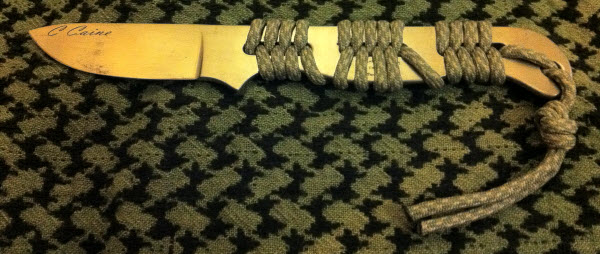 It comes with a nylon sheath that does not hold the knife secure enough for my liking and I think a kydex sheath would have made a better option, the handle has rounded edges which makes it comfortable to use and the cut outs allow for a paracord handle to be added. Interestingly when the handle is wrapped in paracord it fits very securely in the sheath, perhaps this is how it was designed?

If I could give some feedback for a MK2 version I change the position of the cut out holes and have square edges instead of the rounded edges. This would allow the use of the spine to scrape a firesteel instead of the cutting edge. The change in the cut out holes would serve two purposes, firstly it would allow you to wrap the handle in paracord without big gaps and would also give you the option to add some handle scales. Both to make holding and using the knife more comfortable. I would consider getting some G10 and Micarta scales made in the colours of the Scout groups I work with.
The Chris Caine Skeleton knife is just as good at slicing vegetables as it is for making feather sticks, ideal for going in your emergency kit and it is made in the UK too. A worthwhile addition to any outdoors mans equipment.