Foraging for Mushrooms is something that I have wanted to do for a long time but I wanted to make sure I was with someone who knows what they are talking about as there are plenty of stories out there of what happens it you eat the wrong ones. So when my cousin said he had booked us onto a course with Taste the Wild it seemed it was the ideal time to begin learning about the interesting and often misunderstood world of Fungi Foraging.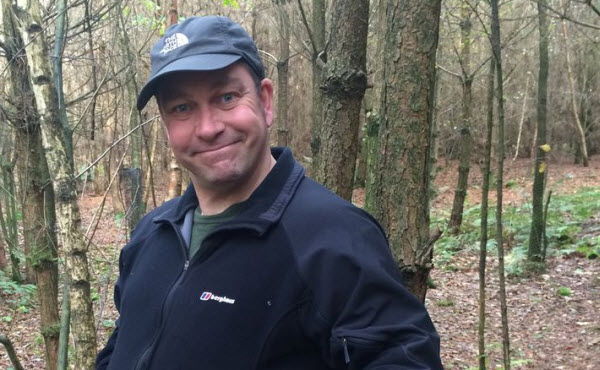 On the morning of the course we arrived at the venue in Boroughbridge and was greeted by Chris who directed us along the path from where we parked up to where Rose was making Tea & Coffee for other participants. We all chatted until Chris and the last few participants joined us, sitting around a plate of biscuits Chris then began the orientation talk. He started with introducing himself and Rose, Taste the Wild & the other courses they run, house keeping for the site and what we would be doing on the course today. Chris explained how we should collect the Fungi, what information we should record on the paper bag we were putting them in and explained some of the terms used that can determine one species from another on an almost identical looking specimens.
We were then given baskets, bags, pens and went off on a route in the woods. Chris demonstrated the process for everyone and then in pairs we settled into sections and started the hunt. I say hunt because that is what it felt like, you have to take some time to slow your mind down and focus on methodically scanning for anything that stands out from the leaf litter the covers the woodland floor like a carpet. Soon enough you are in your stride spotting, collecting, recording information & double checking what the smell is before moving onto the next one. More often than not I recorded a Mushroom as smelling mushroomy! Some then smelt creamy like Heinz Cream of Mushroom soup, one was like coconut milk and another smelt like gloss paint. My favorite smell reminded me of Pickled Onion Monster Munch.  Coming up to lunch time we started to head back to the base camp area, stopping every minute or so to examine and collect another specimen.
Once we returned we all took a seat round the table with a fresh brew and Chris began to explain the ID process starting with the spore print, dimensions, gill attachments and where it was growing. This is where some doubts started to form in my mind, what if I make the wrong ID? What's worse getting poisoned or missing out on a tasty mushroom because I was over-cautious?
I needn't have worried as under Chris and Rose's careful eyes we worked our way through the basket, it was much easier than I thought if you follow a few steps. It is so easy to just check a few things and make a decision, with the desire to make it fit a similar description just because you wish to eat it. We worked our way through about a 3rd of the basket and then it was time for lunch, which consisted of Mushrooms. Chris had prepared a treat with some cured and marinated mushrooms, mushroom soup and bread cooked in the mud ovens in the base camp.
After lunch we did a bit more ID and enjoyed some lovely fruit cake before going on another walk to look to see some other fungi that while not edible are useful in the outdoors for fire lighting, while we didn't see any horse's hoof fungi we did find some cramp balls and then made an ember on this to demonstrate how fire could have been moved from one site to another in prehistoric times. We also learned of a connection between Christmas and the Amanita Muscaria mushroom, which you can read up on here.
Another thing we learned was learned that you can be thrown curve balls from time to time when in a field area we found a species that is normally found growing in wooded areas, Chris explained that in this area Rose had made a large number of sculptures using a chain saw. While I do not doubt that if we had followed the ID process we would eventually have reached the correct conclusion, but the added detail of the unique soil makeup would help you rule out a few choices first speeding up the process.
When we returned to base camp our collective find was laid out on a table, then a few edible species were fried up in butter with some salt and pepper which were then shared around the group. The mushrooms tasted great and it was a pleasant way to finish the course with a belly full of the mushrooms you picked yourself.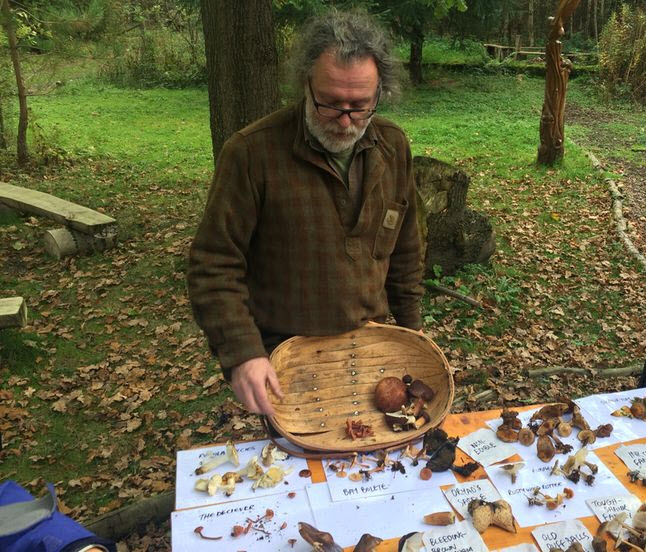 I enjoyed my day with Taste the Wild and would highly recommend their fungi foraging course if you are wanting to start exploring the wonderful world of mycology or you just want to spend time in the woods learning new skills with two people who are passionate about what they do. To book yourself onto a course or to see what other courses you can book visit the Taste the Wild website.