I had never climbed into a hammock before I tried one out while on a bushcraft course in April this year, I just didn't think I could really be comfortable sleeping in one. So when I laid back l knew that this was something I would enjoy, especially as I occasionally suffer with back pain when camping and that can take all the fun out of a camping trip.
Having never looked at hammocks before I asked around and DD Hammocks was a name that kept coming up as a supplier of quality hammocks, so I went onto the DD Hammocks website to do my research on the hammocks and accessories they sell. I decided to start with a camping hammock and a 3×3 tarp, but when I returned to work after a weeks leave to find my colleagues had brought me the exact hammock I had been waiting to place an order for as a birthday gift. I purchased the whoopie sling conversion and the tarp instead, I contacted the customer service team at DD Hammocks to ask them a few questions and found them to be very courteous and helpful.
When it came to setting it up for the first time I was surprised at how easy it was especially as each tutorial I watched online used a slightly different method, I did learn the first time that paracord stretches when used to hang the tarp. I now have a something in place that means my tarp is not closer to my face in the morning then when I went to sleep, I still used the paracord to help keep my kit organized under the tarp.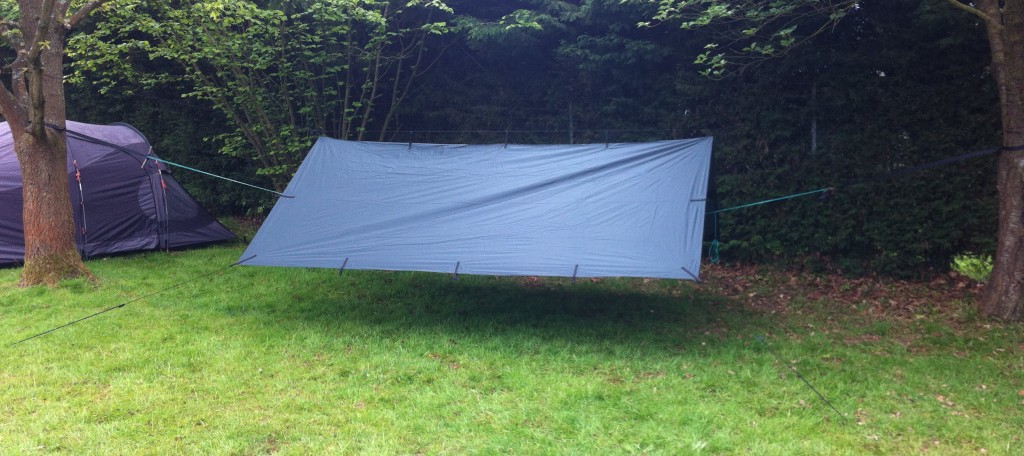 I like to sleep in a cocoon all wrapped up and the hammock just adds to this feeling, I woke up once in the night  when my therma-rest shifted and had a cold spot. The future addition of an under quilt should resolve that issue. I would like to see some internal pockets where I could put a phone or a torch etc.. and that is the only reason I could find not to award a perfect 10, my rating is 9 out of 10.