The Pathfinder Waterproof Pocket Survival Guide series is comprised of 8 guides that cover different aspects of Survival, ideal as a tool to help you learn in the field or to keep in your pack to use as a reference in a survival situation.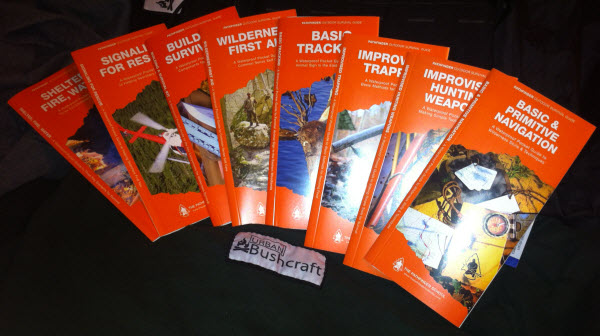 I have recently read a number of survival guides and manuals, the only problem I have is that the size of some of these books means you are less likely to take them with you if you are looking to brush up on one particular subject in the field. This is where these guides come into their own, they currently cover 8 subjects:
Basic & Primitive Navigation
Basic Tracking
Building A Survival Kit
Improvised Hunting Weapons
Improvised Trapping
Shelter, Fire, Water
Signaling For Rescue
Wilderness First Aid
I personally would like to see a few more subjects covered such as Weather, Knots, Wild Food Identification/Foraging and Urban/Home survival Preparedness.
Overall this is a great idea as they make great training aides that will stand up to what the outdoors has to offer. I give them a 8 out of 10 as I believe there are some subjects missing that would otherwise have made these guides a complete source of information in easy to follow bite-sized parts.