When I received the Karrimor SF Predator Patrol 45 from Nightgear the first thing that I noticed about this bag was that it was shorter but deeper than a 45 litre bag I had in the past, I found that this makes packing bulkier items easier and makes better use of the internal space.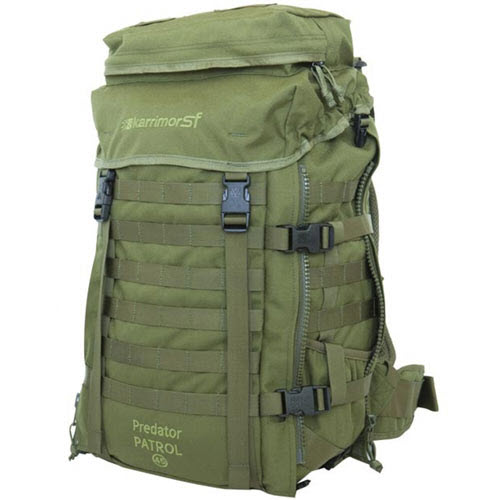 The first time I used it I found that it made much better use of the space then my 65 litre bag as I was able to pack a hammock, tarp and under blanket with space left over that would fit a sleeping bag or wool blanket.
With the ability to add side pockets that can expand the capacity of the bag by 25 litres to 70 litres, this allows me to pack additional items when I have my warmer sleeping bag in the main compartment. My sleeping mat fits over the two side pockets rather nicely, so I can now fit everything I need for a weekends camp in the one bag.
I like the addition of the modular webbing which further increases the versatility of bag by allowing me to add compatible pouches if required such as a first aid kit and increase the storage again.
Not being a fan of hip belts I like that it can be hidden away because I find they get in my way, without the side pockets I will be using this bag for walking and the odd overnight stay with the hammock or bivvy.
One modification I did make was to remove some straps with fastex buckles from inside the main compartment (which I think are for holding a hydration bladder), these are currently in the zippered mesh pocket inside the lid and ready to be used for attaching items to the outside when needed. I have also found the draw cords stick a little when opening/closing the main compartment and I might replace them with paracord in the future. The only other thing I have an issue with is tidying away the straps as I dislike dangling straps slapping about as I walk, which I was surprised about considering it is aimed at the military market.
I have even used it for traveling to functions where I was able to fit my suit bag and a weekends worth of clothing into the bag with some space left over. Overall I am impressed with the Predator Patrol backpack and will be expanding upon it in the future, if you are looking for a modular bag system this would be a great starting item. Scores 8½ out of 10, it loses the points for the dangling straps.
You can get the range of KarrimorSF products from NightGear