This year was the 10th anniversary of the Wilderness Gathering and the first one I have attended, I went with the intention of finding the Bushcraft knife that fitted my hand.
A-Z Bushcraft made a video about the Gathering as part of the first series of A-Z of Bushcraft videos entitled G for Gathering.
Once on site with Terry Longhurst from the Ilford East Activity Team Scouts (Thanks again for the lift) I was introduced to Paul Baker whose knives came highly recommended by Terry, my next stop was Ben Orfords stand to pick up some parts that I had ordered. While there I spotted a tool for engraving patterns and chip carving, Ben gave a quick demonstration which if you have seen his YouTube videos was full of passion for the tool and what it can achieve when used in various ways. I have plans for that tool which I will share later.
Then I heard a magical noise, at first I could not see where it was coming from. Then a man all dressed in green wearing a kilt and playing a pipe sprang into view, that can only be JP minus the ferret from Woodlife Trails. I then went and picked up a few back issues of The Bushcraft Magazine as I liked the taster they had on the website, we wandered around a few more stands before Terry spotted John Mac and his spoon carvings.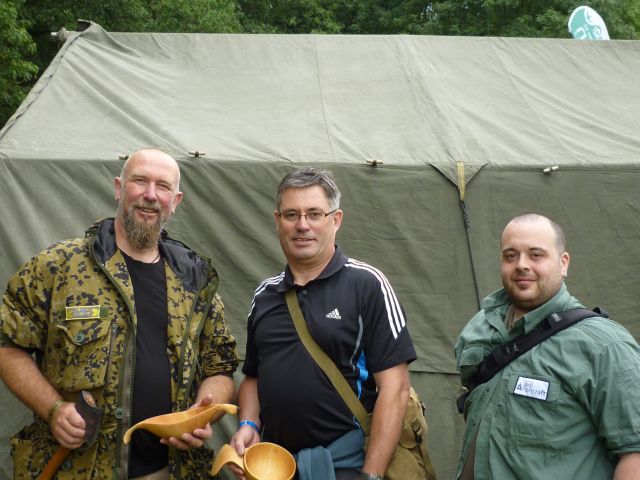 I have been admiring John Mac's work online for a while and now I have seen it in the flesh I am blown away, I cannot even begin to put into words how to describe them. You just need to look at his blog. John has also been working on developing a few knives and I am looking forward to seeing more of the MaChris bushcraft knives in the future, not only do they look good they feel really comfortable in your hand.
Later on in the day I watched part of a blacksmithing demonstration by Dave Budd and was saddened to learn that one of his knives were stolen during the gathering.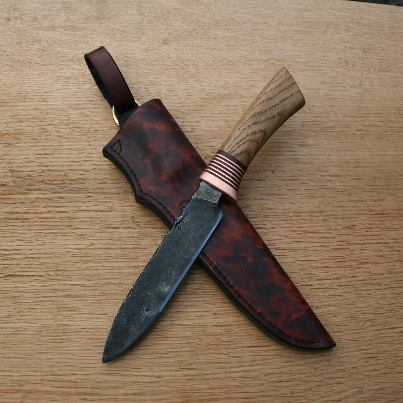 "Sad to report the theft of one of my handmade knives whilst at the Wilderness Gathering last weekend. If you should come across it, please call the police and or try to get it back to me! Really this posting is just a warning to any thieves that the bushcraft community is that and we look out for each other!
The knife has no sheath (I've got that bit), 6″ long forged finished blade with filework down the back, Oak handle with copper and leather furniture."
Ran into a few familiar faces during the day and had some catch up chats with Joe O'Leary of Wilderness Survival Skills,  David Willis and "Swifty" who is a fellow Scout leader I met on one of David's Scout Leader courses.
Throughout the day the bag on my back got heavier and heavier as I visited the various stalls. There were some items that I was specifically looking for like a Gransfors wildlife hatchet and the ever so important "something nice for the wife" gift, which was a lip balm from Natural Spa Supplies that was much appreciated by my wife. I also picked up a parabolic mirror kit from Shark Tinderbox and some leather-working supplies from The Identity Store.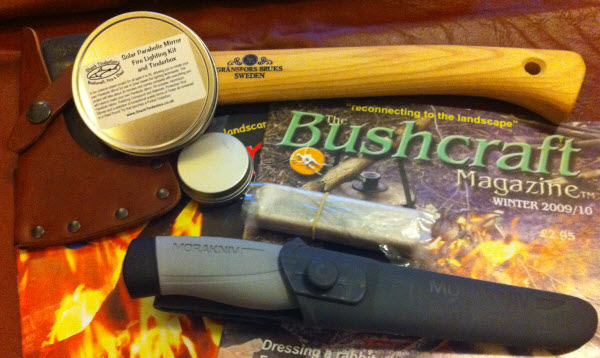 On the way out we passed Paul Baker again and I held the Oak handled knife that was named the Olympic again, I knew that was the knife for me and after mulling it over for a few days I made my final purchase of the Wilderness Gathering 2012.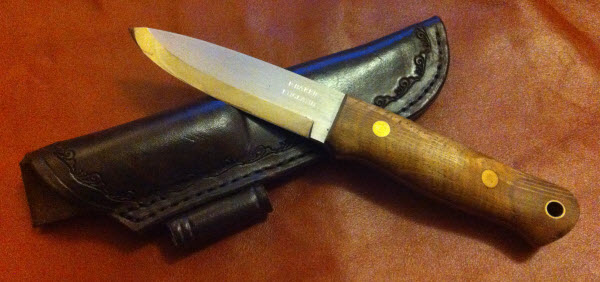 I am already looking forward to the Wilderness Gathering 2013.